2018 NAEHCY Conference Frequently Asked Questions
*hover your cursor over your question to reveal the link to the answer below on the page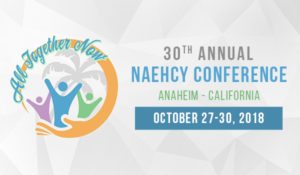 When does the conference take place? Where is it taking place?
October 27 – 30, 2018, Anaheim Hilton, Anaheim CA
How do I register? What is the cost?
Register via our website at www.naehcy.org/2018-conference/register
Full Conference
Early Bird = $525
After September 15 = $585
Onsite = $600
Single Day (10/28 or 10/29 only) = $300
Pre-Conference
Add your Pre-Conference registration to a single day OR full conference registration for just $175.
Pre-Conference Only for $225.
What if I want to change my conference registration?
You can go back to your current registration at the same link on our website, and just click on "update registration". You can also call the conference office and we will assist you! 866.862.2562.
What does my registration fee include?
Full registration includes 2 lite breakfasts, 2 lunches, 1 full breakfast, and am/pm breaks
How do I pay for my registration?
We accept checks, credit cards, and purchase orders. Your invoice will be linked to your confirmation email when you register, make sure to forward it to your payables department for prompt payment. Our organization W9 is linked on the Registration page of our website.
Where is it being held?
Hilton Anaheim
777 Convention Way
Anaheim CA 92802
How do I book my hotel?
Go to www.naehcy.org/2018-conference/hotel-travel
Single/Double occupancy $157 plus tax
Triple occupancy $177/night plus tax
Quad occupancy $197/night plus tax
How long is the hotel rate valid?
The Hilton is offering this rate to us from 3 days prior to the conference through 3 days after the conference, so that you can extend your stay and have some downtime! The rate expires on September 26, or when the block fills.
Does the hotel have onsite parking?
Yes, the hotel has self-park and valet parking. We have a negotiated rate of $14/day for the self-parking.
I heard there is a "deal" for Disney tickets?!
There *is* a deal for Disney! But it is only available to registered attendees of the conference. All information is provided to you in your conference registration confirmation email. Due to our agreement with Disney, we are not able to publicly post this information anywhere.
When are the exhibits open?
Exhibits are open from Sunday 10/28 at 10 a.m. until Monday 10/29 at 5 p.m.
How does my organization become an exhibitor?
Navigate to our exhibitor page for more information and to download the Exhibitor Prospectus and Register.
www.naehcy.org/2018-conference/exhibitors
How can my organization become a conference sponsor?
Check out our sponsorship opportunities linked on the primary conference page – www.naehcy.org/2018-conference/
What services are available for special needs and requests?
NAEHCY is committed to ensuring full accessibility for persons with disabilities in all of its activities. NAEHCY will comply with all requirements of the Americans with Disabilities Act (the ADA). Please contact our business office at info@naehcy.org or 866.862.2562 at least 2 weeks prior to the conference to notify us of special needs and we will provide reasonable accommodations. Those with special dietary needs have the opportunity to provide that information during the registration process.
I just want to attend one session, is that possible without registering for the full conference?
Unfortunately, it is not possible. The only exception is for those Presenters who are only staying to present their session and then departing.
I'm a Presenter, is there a PowerPoint template I should use?
No, although you do need to send us a copy of your presentation by mid-August for CEU purposes.
I was selected as a Presenter, do I get a discount?
Unfortunately, we do not offer discounts for Presenters. We do provide all of your audio visual needs.
What CEU's will I receive at this conference?
We submit applications for Continuing Education Unit's to the National Association of Social Workers (NASW) and the National Board for Certified Counselors (NBCC). All sessions awarded educational credit will be identified in the program and on the mobile app.
Will I receive a certificate of attendance?
All attendees will have the opportunity to download their attendance certificate, or a CE certificate, at the completion of the conference.
What is the cancellation policy for the conference?
Cancellation of your conference registration prior to September 15 will incur a $50 processing charge per registrant, regardless of payment status. Telephone cancellation is not accepted; all cancellations must be in writing via U.S. Mail, certified mail is recommended. When submitting a refund request, please include the name and Registration ID of each registrant, the name of the organization or person receiving the refund, and the mailing address for receiving the refund. Refund requests must be mailed to: NAEHCY Conference Refunds, PO Box 26274, Minneapolis MN 55426. Refund requests are generally processed after the Conference using the same method of payment used for Registration. Fees are nonrefundable after September 15, 2018. If you do not cancel your registration, and you do not attend the conference, you are still responsible for your registration fee.
Where do I fly into?
Santa Ana/John Wayne Airport (SNA) is the closest airport at just over 10 miles away. Other options are Long Beach Airport, about 14 miles away, and LAX which is about 30 miles away.
The following airlines serve SNA: Alaska, American, Delta, Frontier, JetSuite, Southwest, United, and WestJet.
How do I get to the Anaheim Hilton?
SuperShuttle (approx.. $13.00 one way) 10% discount for NAEHCY attendees, use code 6MMDF https://www.supershuttle.com/default.aspx?GC=6MMDF
Cab (approx.. $45 one way)
Uber (approx.. $25/one way)
Lyft (approx. $23/one way)
*above cost are approximations and are from the Santa Ana/Orange County airport to the Hilton
I have additional questions, who do I contact?
Contact our Business Office at 866.862.2562 or via email to info@naehcy.org.