NAEHCY 30th Annual Conference Keynote Speakers
Sunday, October 28, 2018 – Opening General Session
Mandy Manning, 2018 National Teacher of the Year – watch this session HERE

Mandy Manning teaches English to newly arrived refugee and immigrant students in the Newcomer Center at Joel E. Ferris High School in Spokane, Washington. In her classroom, Mandy uses experiential projects like map-making to help her students process trauma, celebrate their home countries and culture, and learn about their new community. As 2018 National Teacher of the Year, Mandy will encourage educators to teach their students to overcome their fears and seek out new experiences.
"Let's teach our students to be fearless," she says. "Let's teach them to be brave when confronted with uncertainty. Brave when they fail. Brave in meeting new people. Brave in seeking opportunities to experience things outside of their understanding."
Mandy strives to create connections between her students and the community inside and outside of the school. Her students work in the student store and she encourages other students to visit and volunteer in the Newcomer Center. She also invites district leaders, campus resource officers, community members of color, and professional writers to visit her classroom. The visits help her students learn cultural expectations and how to express themselves effectively. In return, her students teach these leaders where they come from, who they are, and the beauty they add to the school district.
"All of us together make this world interesting and good. We must teach our students to overcome their fears and seek out new experiences. The only way to teach fearlessness is to show it. We must show kindness by getting to know our students, learning about them, and showing them how to connect," she says.
Mandy has taught for the past 18 years, six of which have been in her current role. She earned a Bachelor of Arts from Eastern Washington University, a Masters of Arts from West Texas A & M University, and a Masters of Fine Arts from Northwest Institute of Literary Arts. Mandy is a National Board Certified Teacher.
NAEHCY is thrilled to welcome Mandy to open our conference!
Monday October 29, 2018 – Morning General Session
Carolyn Gentle-Genitty, Assistant Vice President for University Academic Policy and Director, University Transfer Office, Indiana University – watch this session HERE

Dr. Carolyn Gentle-Genitty is a tenured professor at Indiana University in the School of Social Work. She is an international scholar, researcher, and author on truancy, school absenteeism, and social bonding. She is a long-standing member of the executive board of the International Association for Truancy and Dropout Prevention (IATDP) and a founding member of the International Network for School Absenteeism (INSA).
Gentle-Genitty, originally from Belize, lives in Indianapolis. In Belize she served as the executive director of the local YMCA, aided in running an alternative boys school, sat on numerous boards and task forces ranging from Department of Youth Consultant, Board of Governors Princess Royal Youth Hostel, Task Force on Youth Enterprise Fund, Department of Corrections & Youth Chair Task Force on Aftercare Support, Advisory Committee on I-TVET (Institute-and Ministry of Youth & Tourism: Consultant in drafting the National Youth Council Bill, to the Belize National Youth Commission Member, and Vice President of the United Nations of Belize (UNA-Belize) She taught at both the university of West Indies and University of Belize prior to coming to IU. She bring extensive collaborative experiences from work with local and international bodies including Organization of American States (OAS), Unicef, Caricom (Caribbean Community), Inter-American Development (IDB), YMCAs internationally particularly Canada Fredericktown and St. Louis), and has a passion for student success through collaboration and partnerships. As fun facts she holds a honorary Chief of Police status from Louisville KY and was a radio talk show personality in Belize.
We are so thrilled to have Carolyn joining us!
Tuesday October 30, 2018 – Morning General Session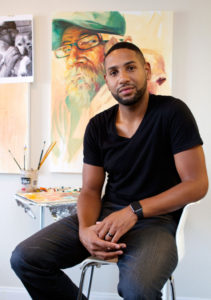 Brian Peterson, founder of Faces of Santa Ana – watch this session HERE
Brian's story began three years ago. "I just moved to Santa Ana, and found myself in my downtown apartment, night after night, reading a book called Love Does. The book is about unconditional love and what it means to sacrifice one's life for others. As I laid on my couch one evening, slowly reading and absorbing the text, I hear the screams from a man experiencing homelessness coming from outside my window. I've heard these screams in the past, and previously referred to him as "The Screaming Homeless Man". But this day was different. This time, love intersected his screams and my heart was filled with compassion. I needed to know him, find out his name, and respect him as my neighbor.
A few days later, I was on the way home, from work on my bicycle, and I felt the nudge to look for this man. I rode around the busy streets near my house looking for him and finally found him sitting on a corner with an empty cup two blocks from my home. After laying my bike down, I sat on the floor next to him, introduced myself, and asked him his name. "My name is Matthew", he timidly explained. On this day Matthew was calm and quiet. I bought him a subway sandwich and we sat together while he explained his dreams to me. Matt moved to LA from Kentucky with dreams of being a musician. He stepped out in faith, drove cross country, with no plans or agenda, but only with his burning desire to play music. For the last twelve years, he's lived on the streets of Santa Ana, slowly watching his dreams fade away.
Matt spoke, and I watched him from a place of love and compassion. I began to see the beauty in him that surpasses all the dire circumstances visible to the masses.
Within my heart bubbled a question that changed my life. "Hey Matt, can I paint your portrait?" I think the questioned shocked me more than it shocked Matt because I left my passion for painting somewhere in freshman year of college when I chose to pursue a career in automotive design. Surprisingly, Matt said yes, I took a few pictures, and raced home to explain the good news to my wife. I had no plans to do anything with Matt's portrait other than to hang it in my own home.
What I didn't know, is that Matt's painting would change the entire direction of my life. A couple days later, I brought Matt's finished portrait out to the same corner where I first heard him screaming, and had him sign the piece right above my signature. I assured Matt that his story and journey was just as important as my paint and brush strokes. We are both artists collaborating on this piece. Later, I posted the painting on Facebook and many were asking if it was for sale. In this moment, the "light bulb" went off. I realized that I can use the artistic gift I have been blessed with, to bless others. There was purpose and destiny hidden in my childlike passion for painting. A new flame of love arose in my heart, and Faces of Santa Ana was born. The movement was birthed out of noticing the "one". There was never a plan or strategy to reach the masses with a nonprofit, but instead Faces of Santa Ana has grown with a heart connected to eyes that see the "one" right in front of us."
Click here to read more, and click here to visit the Faces of Santa Ana website.
NAEHCY is honored to have Brian join us!