NAEHCY 30th Annual Conference Keynote Speakers
Sunday, October 28, 2018 – Opening General Session
Mandy Manning, 2018 National Teacher of the Year
Mandy Manning teaches English to newly arrived refugee and immigrant students in the Newcomer Center at Joel E. Ferris High School in Spokane, Washington. In her classroom, Mandy uses experiential projects like map-making to help her students process trauma, celebrate their home countries and culture, and learn about their new community. As 2018 National Teacher of the Year, Mandy will encourage educators to teach their students to overcome their fears and seek out new experiences.
"Let's teach our students to be fearless," she says. "Let's teach them to be brave when confronted with uncertainty. Brave when they fail. Brave in meeting new people. Brave in seeking opportunities to experience things outside of their understanding."
Mandy strives to create connections between her students and the community inside and outside of the school. Her students work in the student store and she encourages other students to visit and volunteer in the Newcomer Center. She also invites district leaders, campus resource officers, community members of color, and professional writers to visit her classroom. The visits help her students learn cultural expectations and how to express themselves effectively. In return, her students teach these leaders where they come from, who they are, and the beauty they add to the school district.
"All of us together make this world interesting and good. We must teach our students to overcome their fears and seek out new experiences. The only way to teach fearlessness is to show it. We must show kindness by getting to know our students, learning about them, and showing them how to connect," she says.
Mandy has taught for the past 18 years, six of which have been in her current role. She earned a Bachelor of Arts from Eastern Washington University, a Masters of Arts from West Texas A & M University, and a Masters of Fine Arts from Northwest Institute of Literary Arts. Mandy is a National Board Certified Teacher.
NAEHCY is thrilled to welcome Mandy to open our conference!
Monday October 29, 2018 – Morning General Session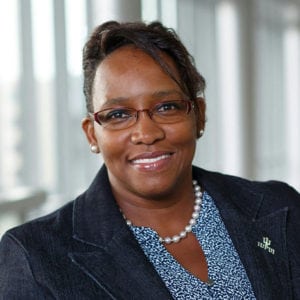 Carolyn Gentle-Genitty, Assistant Vice President for University Academic Policy and Director, University Transfer Office, Indiana University
Gentle-Genitty brings over 20+ years in crafting collaborative efforts to advance assessment in youth antisocial behavior (truancy and gangs), social bonding assessment, teaching, model and curriculum development, and theory. As an international speaker, published book and journal author, and app developer, her work can be found in peer reviewed journals, online in invited blogs, LinkedIn, magazines, newspapers, books, and in the app store ("101 Theory"; "Guide to Social Work").
Dr. Carolyn Gentle-Genitty, an associate professor at Indiana University in the School of Social Work, is a well-known social bonding and truancy expert who sits on the Executive Board of the International Association of Truancy and Dropout Prevention (IATDP) as president. Her instrument for assessing social bonding in schools, tested statewide and accepted by the American Psychological Association Tests, has been included in Caribbean assessments conducted by Caricom. Her leadership and innovation is highly sought after to respond to challenges facing youth by numerous international organizations like IATDP, UNICEF, and CARICOM. With CARICOM, she completed a five country Caribbean assessment on the reduction of youth on youth violence in schools and communities supported by Spain. For IATDP, invited to spearhead the re-definition of truancy she conducted and published this work internationally in a peer-reviewed journal.
She received a Ph.D. from Indiana University and bachelor's and master's degrees from Spalding University in Louisville, Kentucky.
Gentle-Genitty, originally from Belize, lives in Indianapolis. In Belize she served as the executive director of the local YMCA, aided in running an alternative boys school, sat on numerous boards and task forces ranging from Department of Youth Consultant, Board of Governors Princess Royal Youth Hostel, Task Force on Youth Enterprise Fund, Department of Corrections & Youth Chair Task Force on Aftercare Support, Advisory Committee on I-TVET (Institute-and Ministry of Youth & Tourism: Consultant in drafting the National Youth Council Bill, to the Belize National Youth Commission Member, and Vice President of the United Nations of Belize (UNA-Belize) She taught at both the university of West Indies and University of Belize prior to coming to IU. She bring extensive collaborative experiences from work with local and international bodies including Organization of American States (OAS), Unicef, Caricom (Caribbean Community), Inter-American Development (IDB), YMCAs internationally particularly Canada Fredericktown and St. Louis), and has a passion for student success through collaboration and partnerships. As fun facts she holds a honorary Chief of Police status from Louisville KY and was a radio talk show personality in Belize.
We are so thrilled to have Carolyn joining us!
Tuesday October 30, 2018 – Morning General Session
To Be Announced