Your 2019 Officer Candidates are: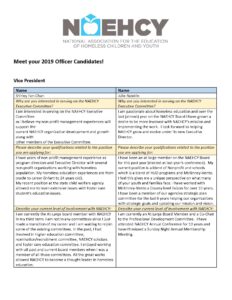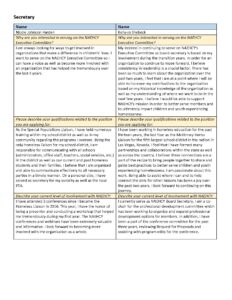 Responsibilities of each position include:
VICE PRESIDENT
Assist the President in all areas of executive function and leadership
Actively and consistently contribute professional expertise, talents and skill sets, experience, and geographic reach to help NAEHCY respond to the needs of its members and constituents;
Attendance at all Board of Directors meetings during the annual conference;
Interacting with NAEHCY members and volunteering to proctor a session(s), monitor the NAEHCY membership table, or otherwise assist in the success of the annual conference;
Active participation in regular monthly teleconferences that constitute meetings of the Board of Directors;
Active participation on NAEHCY Standing or Ad Hoc Committees;
Provide leadership and guidance in shaping NAEHCY's strategic plan and goals; and
Other duties as assigned by the President.
SECRETARY
Be secretary of and attend all meetings of the Board of Directors
Record the proceedings of such meetings and whenever necessary certify such proceedings
Provide proper notice of meetings to directors
Other duties as assigned by the President
Executive committee duties will begin at the conclusion of the 2019 conference and continue through the 2021 conference.
NAEHCY is a board of volunteer members.  Members are responsible for the costs associated with participation in NAEHCY business and meetings. Hardship scholarships may be offered on a case-by-case basis to assist with attendance at the meetings.
NAEHCY is an equal opportunity employer committed to excellence through diversity and strongly encourages applications from people of color, religious, ethnic and sexual minorities, people with disabilities, and other underrepresented groups.
[1] Competencies NAEHCY seeks in board members include professional expertise, talents, skills, and personal experiences that enhance NAEHCY's sustainability and capacity to succeed in its work, such as: experience with education systems at state and local levels (early childhood through higher education); experience with service provision to children, youth and families experiencing homelessness; youth development expertise; business expertise; philanthropic and/or development experience; marketing/PR/communications skills; nonprofit management; social science research and evaluation; technology, website and social media skills; legal expertise; community organizing experience (inter-agency and grassroots); experience lobbying or organizing to support legislation; geographic representation; and housing status.